FAQs (frequently asked questions)
Goldfish FAQs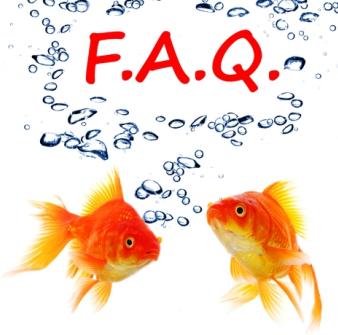 Browse through the Goldfish FAQs page to find answers to the most frequently asked questions.
At the end of each answer you will find a link to a page that gives more detailed information relating to the question.
If you can't find what you are looking for, click on one of the links that takes you to the Question Submission form.

Q: How much food do I feed them?
Repashy gel food ideal for Goldfish
A: Goldfish can't be overfed.  As long as food stays edible, Goldfish will continue to eat it until it is all gone.

The problem with most dry prepared foods found in pet shops is the uneaten food quickly dissolves and becomes inedible.  The food then decays polluting the water and creating poor water conditions, the number one cause of Goldfish deaths.
Many factors determine the amount of food to feed, these include:
Fish size (adult or fry)
Number of fish
Type of food (live, frozen or prepared)
Pond or aquarium
The season
Each setup is different, so the amount to feed needs to be worked out.
Measure out a small amount of food and feed it to your goldfish.  If it disappears in seconds, as it should, add the same amount again.  Repeat this until the fish start to lose interest.
More on Feeding Goldfish page…
Can't find what you're looking for? Click here to ask a question.
Q: How much room do Goldfish need?
A: Without any filtration, goldfish need approximately 24 square inches of surface area for each inch of fish. For ponds this figure needs to be doubled.
This measurement however doesn't determine the size of aquarium you need.  That is determined by how  you will maintain high water quality for your fish.
To learn more about aquarium size requirements go to the page on how much room Goldfish need.

Filters allow more goldfish to be kept, and are recommended.
Q: How big do goldfish grow?
A: The conditions goldfish are kept in plus their diet determine how large they will grow.
I have seen goldfish grow ridiculously large in very small containers when their water was changed frequently.  Goldfish will not grow if water conditions are poor.
Fancy goldfish don't grow as large as Common goldfish.  A good size would be around 5 inches (13cm) body length for most fancy varieties, 8 inches (20cm) for Comets and 12 inches (30cm) for Common Goldfish.  These sizes are usually only attained by pond grown fish.
Q: How can I tell if my goldfish is sick?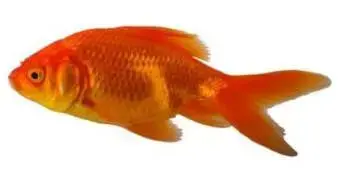 Clamped fins indicate sickness
A: A sick goldfish clamps its fins close to its body.  Other obvious signs are:
Little or no response to food at feeding time
Frequent jerky swimming motions and rubbing against objects in the aquarium
Loss of color or increase in body slime
Swimming in a vague listless manner
Long periods lying on the bottom or gasping at the surface
Faeces that are long or pale in color, or interspersed with air bubbles. 
More on Goldfish Diseases page…
Q: Why does my pond water still go green when I have a filter?
Green water is caused by suspended phytoplankton algae that can't be filtered out with normal pond or aquarium filters.
A UV sterilizer or clarifier can be used to remove the algae.
More on Goldfish Pond UV Sterilizers page...

Q: How long do goldfish live?
A: Goldfish kept in a bowl have the shortest lifespan, 5 years being exceptional.
If goldfish are kept outdoors in a pond, attain a good size and are fed the proper diet, 20 years is not uncommon.  In China goldfish 40+ years old have been recorded.
Goldfish kept inside in aquariums should live 10+ years.  If they are put outside in a pond for a few months during warmer weather, it seems to give them a boost.
Q: How many types of goldfish are there?
A: There are well over 100 different varieties of goldfish, with more appearing and others disappearing every year.  Excluding scale types, the number of well established varieties that have survived for decades and can be readily found in pet stores is 13-14. 
More on Goldfish Types page…
Q: How do I tell male from female?

A: The fish must be at least a year old, and in excellent health.  They must be fed high quality dry food but ideally live food.  Their water must be clean and the temperature somewhere above 60 degrees Fahrenheit (15 C).
Under these conditions goldfish will start to display characteristics of male and female.
Males will develop small raised white tubercles on their gill plates and the leading edges of their pectoral fins.
When viewed from above, females will look more rounded compared to the males.  This is more obvious in the slim single tailed varieties.  This can't be relied upon in the rounded body varieties.  Males can have plumper bodies than the female.
Fish kept outside in ponds tend to show male/female characteristics earlier than those kept indoors.
More on Goldfish Spawning Preparation page...

Q: What do I feed my goldfish fry?
A: If fry are expected to grow quickly and develop the special characteristics required for their variety, they must be fed live food as soon as they are free swimming.
One of the best and easiest to use for the first two weeks after becoming free swimming is brine shrimp. 
More on Feeding Goldfish Fry page…
Q: What do goldfish eat?
A: Goldfish are omnivorous meaning they eat vegetable and animal based foods, so a balanced diet containing both is essential.
Fancy varieties require a high proportion of live food in their diet otherwise they will develop intestinal problems leading to swimming imbalance. 
More on Feeding Goldfish page…
Q: What about holidays?
A: One of the biggest dangers to goldfish is the well-meaning neighbor or friend who is given the responsibility of feeding the fish while you are on holiday.
For periods of up to a week, especially in cooler weather or the fish are in a pond, they will be fine not being fed.
For longer periods, make up small packets of dry food for each day with strict instructions not to feed any more than the daily allowance.
Automatic feeders
are also available but some tend to be a little random with the amount of food they dispense.
Q: Do my goldfish need a filter?
A: As long as goldfish have enough space, and their water is changed regularly, they don't need a filter.
The advantage of having a filter is the greater number of fish that can be kept safety and less pool or aquarium maintenance.  It also provides a level of safety from overfeeding or something dying un-noticed. 
More on Aquarium Filters…
Q: Do my goldfish need a heater?
A: Goldfish are a warm water fish. They can live in tropical or cold water for short periods of time but prefer a temperature around 65oF. Unless you live in a very cold climate that has a prolonged period of cold weather (3 months under freezing), your goldfish don't need a heater.
A heater is required if you intend to breed your fish as a sudden cold snap could prolong hatching which affects the health of the fry.
Q: What are the best varieties for beginners?
A: The best varieties for beginners are Comets, Shubunkins and Fantails.  Don't keep the single tailed varieties with Fantails as they will get to the food first.
Q: Can I keep my goldfish in a bowl?
A:  Yes you can, as long as the bowl has 24 square inches of surface area for each inch of fish.
In reality, for most bowls, the fish have to be very small and they won't grow much.
Bowls are hard to filter and decorate, you are better off with a proper aquarium.
Can't Find The Answer To Your Goldfish Query?
Do you have a question about goldfish that the FAQs page doesn't answer?
Ask about it here and either I can answer the question for you, or perhaps one of our visitors knows the answer.
Be as descriptive as you can, (a picture or two is always helpful).
What Other Visitors Have Asked
Click below to see contributions from other visitors to this page...