Is This Normal For a Matt Scaled Fish or Not?
by Chris
(Saint Paul, MN)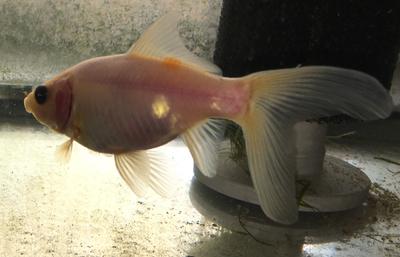 I've been panicked over my big pink goldfish's red gills (I don't know gender, named moon).

I've been doing zealous water changes, checked my water treatment chemicals on the forums,even treated for gill flukes just in case. There's been no change in color.

My fish is big, perky, eats as much as it can find, beautiful skin & tail. I just saw a picture of a white (pink) mat scaled fish online & its red gills are showing through its gill covers too. Is it possible that this is normal for my fish & I have been overreacting?


---
Grant's Reply
Hi Chris
You are correct, you are over-reacting. :-)
Your fish is a picture of health.
Matt fish and the better quality nacreous (calico) scale groups should have transparent gill covers which allows the red gill filaments to show through.
Many nacreous fish will have one or both gill covers metallic which would lose them points if exhibited in a show.
As far as gender is concerned I don't see any evidence of white pin head size breeding tubercles on the gill cover so I would presume female.
Look closely at the anal pore; a female's will protrude slightly, a male's will appear flat or even slightly concave inwards.