Algae on aquarium walls
by Viv
(New Zealand)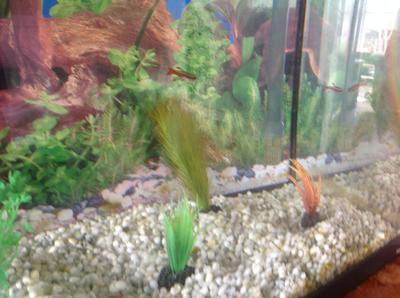 No matter how often we clean our aquarium it seems to become discoloured with an algae build up around the bottom walls. We have a 38ltr aqua one tank, have 2 small goldfish & 2 tiny ones. Any tips would be appreciated.


---
Grant's Reply
Hi Viv
If you are referring to the brown smudge at the bottom of your aquarium, it is a build up of diatoms, a single cell phytoplankton.
Water high in silica tends to promote diatom growth but there isn't a lot that can be done to remove it from the water supply.
Diatoms can coat everything in the aquarium including plants and ornaments as well as the aquarium sides.
They are harder to control as they don't require as much light to thrive as most green algae need and their reproductive cycle is much faster than other algae.
As for controlling diatoms, the first thing to do is ensure your water nitrate level is below 20 ppm (parts per million). A cheap water test kit will tell you that.
The aquarium seems to be receiving strong light from somewhere so I would consider moving it or blanking off one or both ends of the aquarium.
I use bristle nose catfish to control algae in my aquariums but they are tropical and need to be heated. Some also attack Goldfish to get the protein from their slime.
Because it is easily wiped off the sides of a glass aquarium, I also use a glass scraper available from any fish store.