Goldfish Care Tips
A Free Monthly Resource For Goldfish Enthusiasts
November 2019
Issue #071
In This Issue
Buying Second Hand

Buying used or second hand equipment can save you a lot of money, but there are traps to avoid, especially if you are buying online.
---
Buying Second Hand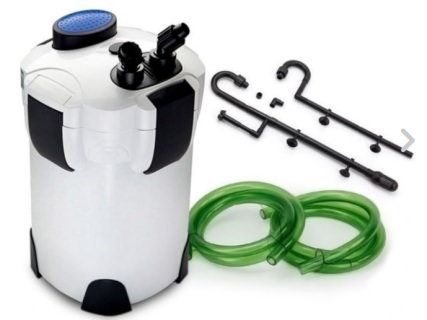 Even though prices for aquarium equipment have come down in real terms over the years, substantial savings can be made by buying second hand equipment.
Buying the highest quality equipment you can afford still applies to second hand purchases. A seller may be selling a piece of equipment at a bargain basement price because it keeps failing due to poor quality.
Having said that, there are canister filters made by a well-recognized manufacturer that were a dismal failure from new. More on that later.
Aquariums
Aquariums are made from either glass or acrylic.

Because of their size and fragility, it is best to buy locally, and pick the item up yourself. This gives you the opportunity to inspect the surfaces for scratches.

Some minor scratches on the inside surfaces of a glass aquarium won't present a problem as they will disappear when the aquarium is filled with water. A bigger issue with glass aquariums is chips on edges. These can lead to failure of the panel if any stress is applied such as sitting the aquarium on an uneven surface.

Acrylic aquariums often have severe scratching on the inside surfaces because the owner hasn't used the correct algae scraper. Minor scratches can be polished out with automotive paint cutting compounds, but it is hard work, as I have found out.

Because glass aquariums are so easy to make, there are many aquariums that have been built by amateurs. Check that the glass thickness is adequate and there is enough bracing.

An aquarium 24"x12"x15" high (610x305x380mm) should be made from ¼" (6mm) glass and doesn't require bracing. Anything bigger than this will need bracing or be made from thicker glass.

Always sit glass aquariums on a completely flat, level surface with a piece of polystyrene underneath to take out any minor surface imperfections such as raised nail heads.

If the aquarium comes with a stand, try an avoid the ones made from MDF. Real wood stands can take the occasional splash of water or be re-surfaced, but MDF swells, looks terrible and can't be repaired.

It is often cheaper to buy a complete setup, just check the filter runs, light fittings work and aren't rusty, and a glass cover comes with it.
Filters
Once you have identified a filter you want and it has moving parts, get onto the Internet and check if spares are available. The better power filters have ceramic shafts for their water impellers so have a much longer service life.

The most common spares needed are rubber seals, hoses and water impellers.

Avoid the Fluval 104-404 canister filter range. Although well designed, these early filters had problems with the water impellers not restarting. The earlier 103-403 and later 105-405 ranges didn't have this problem.

With air driven filters such as sponge and internal corner filters, find where the air tubing attaches to the filter and check if it is intact, as the extensions are often broken off. Check the plastic body isn't cracked and all parts are present such as air extension tubes.

A question to ask if not stated is whether the filter comes with filter media. The media might not suit your setup, but at least you will know what it comes with. Most power filters are sold with an open cell foam pad from new, so that should come with the filter.
Heaters
Look for moisture at the top of heaters. It can indicated the heater is leaking which leads to rusting of the electrical components.

The rubber cap needs to be in good condition and not perished. The power lead should have no cuts or damage.
Voltage
The voltage of any equipment should be clearly stated in the advert, and the plug type either visible or specified because the voltage may be correct, but the plug type may not suit your location.
---
Comments? Ideas? Feedback? I'd love to hear from you. Just reply to this e-zine and tell me what you think, or what topics you want covered.

Next Month's Topic

Fancy Variety Care

www.facebook.com/aboutgoldfish
---